IRVING, TX—August 22, 2023—Andamiro USA is pleased to announce that it has begun shipping the new installment of Pump It Up across North America. Pump It Up Phoenix, the latest chapter in Andamiro's enduring rhythm and dance video game series follows Pump It Up XX, the 20th-anniversary edition that rolled out four years ago. Phoenix, which officially debuted in South Korea on July 4, features expanded content and technological enhancements, elevating the immersive experience of the iconic five-step dance simulation game for arcades.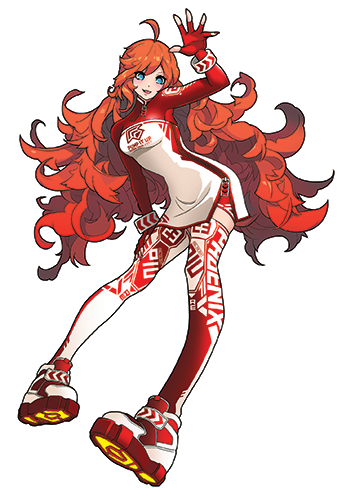 The highlight among these enhancements is the introduction of Premium Mode, tailor-made for players seeking intensified challenges. Exclusive songs, totaling six in number, can only be unlocked within Premium Mode. Accessible solely through an AM.PASS card Premium Mode is one of three gameplay options, rounded out by Full Mode, catering to advanced and intermediate players, and Basic Mode, designed for beginners.
Phoenix has an updated scoring system based on a 1-million-point scale, coupled with new scoring plates, appealing to both seasoned enthusiasts and newcomers. Additionally, Phoenix adds an extensive range of 100 score levels, spanning from the pinnacle achievement of SSS+ – denoting a flawless performance – gradually descending to encompass all levels of accomplishment. Furthermore, Phoenix broadens Pump It Up's dance steps repertoire, reorganizing over 150 player reward designations.
Its distinctive musical accompaniment is central to the core of all Pump It Up iterations, and Phoenix raises the bar with a playlist explicitly curated for rhythmic action. Launching with an extensive library of more than 500 tracks, the game's musical compilation includes 150 updates, the latest chart-topping K-pop sensations, and an expansive selection of World Music genres. Finishing off the Phoenix playlist are renowned Pump It Up original compositions from accomplished dance game composers such as Zekk, Litmus*, Sbrem, Max, and various other distinguished artists.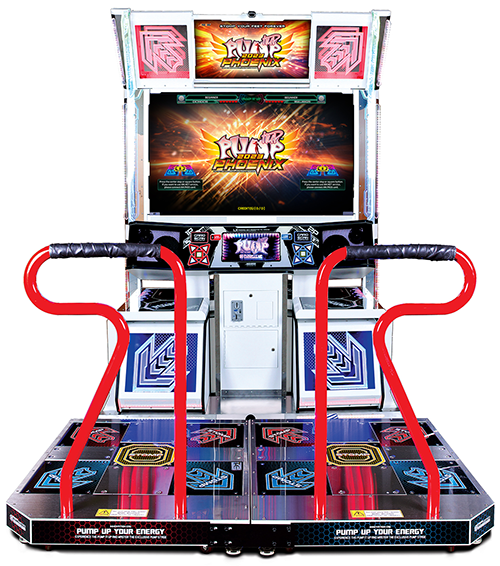 For buyers in need of a complete system package, Phoenix software is integrated within Andamiro's contemporary Pump It Up cabinet, boasting two side-by-side dance stages featured in the LX model that's equipped with a 55″ HD display, four speakers, two subwoofers, brilliant lighting effects, and an AM.PASS card reader. Existing PIU game owners can transition to Phoenix through upgrade packages compatible with the LX (55″), as well as legacy TX (55″), CX (43″), and FX (42″) cabinet models.
Pump It Up systems, parts, and Phoenix upgrades are sold through authorized Andamiro distributors. For more information, email parts@shafferdistributing.com.
About Pump It Up
Developed and published by Andamiro, Pump It Up is a seminal rhythm and dance video game that emerged in 1999 from South Korea. Known for its distinct five-step dance platform and engaging gameplay, Pump It Up has evolved to become a beloved fixture in arcades worldwide. And it has garnered a fiercely devoted fan base often called "Pumpers." A talented group of Andamiro programmers and designers, known as the Music Business Team and led by Mr. Changhee Son, oversees all facets of the product. With an extensive library of tracks spanning various genres, immersive visuals, and challenging gameplay modes, Pump It Up continues to captivate dance enthusiasts and players seeking rhythmic excitement.
About Andamiro
Founded in 1992 in the Republic of Korea, Andamiro is an award-winning maker of amusement games with a focus on turning leading brands into high-earning arcade attractions. The MLB Players Association, NFL Players Inc., Nickelodeon, Universal, The Walt Disney Co., and World Wrestling Entertainment Inc. are among our licensing partners. Andamiro USA, headquartered in Irving, TX, and its South Korea-based parent, Andamiro Co. Ltd., are online at andamirousa.com and andamiro.com. "Creating Joy for All" is the game-maker's mantra. Andamiro USA was recognized as Dave & Buster's 2023 Supplier Partner of the Year.
Contact Shaffer Distributing for more information!